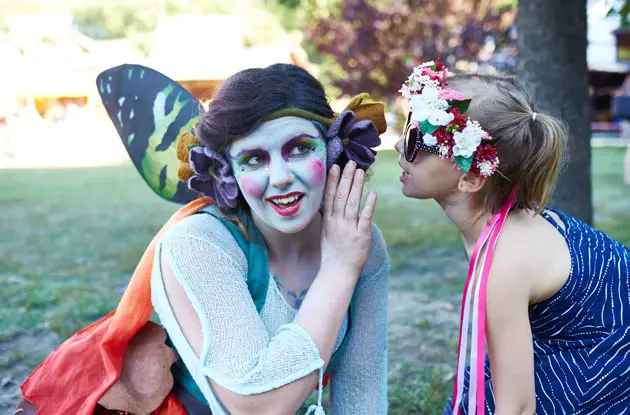 The New York Renaissance Faire: Where Fantasy Rules
Immerse yourself in a 16th-century Elizabethan village for a day.
Get kid-friendly activities sent to you!
Get the Best Kid-Friendly Activities
Sent to You Weekly!
Our last planned stop for the day was the Royal Joust at the Roselawn Tournament Field. This event is free and offers a lot of great seating, including a VIP option. Jousting is intense, so I had to reassure Brooklyn that the competitors were unharmed. We all did enjoy it, though, and even got to meet the riders and horses afterward.
As the jousting tournament ended, the faire started closing down for the day. Brooklyn asked if she could be the leader to show us the way out, when a performer by the name of Daniel Liberti stepped by her side and said, "I'll lead!" He asked her name and if she likes to make wishes. He put a pebble in her hand, told her to squeeze her hands and eyes as tight as she could, and make a wish. She announced her wish for a unicorn. He then took his staff and touched her hands with it, then told her to open her eyes and hands—well, there was no unicorn, but there was a crystal marble. It was such a fun, spontaneous experience, so much in line with the vibe of a Renaissance Faire.
We made our way toward the exit around 7pm and noticed all the performers gathering along the hills and paths on our route. A band started playing live Renaissance-style music, and everyone started dancing. Performers and attendees all danced together and celebrated a wonderful day of fantasy. My daughter found her favorite fairy up on the hill and they danced together until it was time to call it a day.
It's official: I am now a Renaissance Faire fan. And I will likely visit this one every year now.
Tips for Visiting the New York Renaissance Faire
The Renaissance Faire hosts themed weekends and special events all season, including Pirate Weekend, Time Travelers' Weekend, and Celtic Weekend. Plus, various entertainers stroll the grounds all season, so you're never without something fun to see!
There is free parking about ¼ mile from the faire, and free shuttle buses take visitors back and forth.
There is $10 parking closer to the faire, but the lot gets full quickly.
The grounds are very stroller and wheelchair friendly.
Diaper changing stations are in both men's and women's bathrooms.
Wagons are available to rent if you don't bring a stroller but realize you should have.
Pets are not allowed, though service animals are welcome.
You can get a stamp if you leave the park and intend to return later the same day.
Outside food is not allowed, but you can return to your car for a picnic if you would prefer your own food.
Many shows are not appropriate for kids. All of these are indicated on the schedule or online. However, overall, this is a very kid friendly venue.
Nearly all activities, with few exceptions (such as the shows and performances), require additional fees, so be prepared to spend more than just the entrance fee. And the activities (as well as food stands) don't accept credit cards. There are ATMs around the faire, but bringing cash is helpful.
There is direct bus transportation provided by Shortline from the Port Authority Bus Terminal in Manhattan to the faire. It offers either a round-trip bus-only ticket to the faire or a day-trip package that includes round-trip bus ticket, plus faire admission and a program. Contact Shortline for more details: shortlinebus.com or 800-631-8405.
Visiting the New York Renaissance Faire
Where is the New York Renaissance Faire located?
The New York Renaissance Faire address is Sterling Forest, 600 Route 17A, Tuxedo, Orange County.
When is the New York Renaissance Faire?
The Renaissance Fair runs Aug. 21-Oct. 3, Saturday-Sunday and Labor Day, from 10am-7pm.
How much are the Renaissance Faire's tickets?
$29.95; $25.95 seniors (62 and older) and military personnel with identification; $13 children ages 5-12; free for ages 4 and younger. Check the website for discounts and promotions.