Rocking Horse Ranch: Dude Ranch Lite
Get kid-friendly activities sent to you!
Get the Best Kid-Friendly Activities
Sent to You Weekly!
The next morning we finally made it to the highly anticipated water park. The kids took no time jumping in and splashing each other under the ranch-themed splashing structure in the center of the indoor pool. They also loved the area in the deeper end of the pool where they walked across floating buoys while holding onto ropes above them.
The upper deck of the water park was their favorite section. This area has a splash pad with three small slides and several geysers for little kids to play in. The highlight is a 250-foot-high tube slide that begins inside, takes you outside in several loops, then returns you back indoors with a splash. This feels like an adult slide but participants as short as 36 inches were bravely making the ascent up the stairs and smiled as they reemerged at the bottom. The water park was a lot of fun, but is relatively small, feeling more like an indoor pool with a big waterslide than a full-fledged water park.
Horseback Riding at Rocking Horse Ranch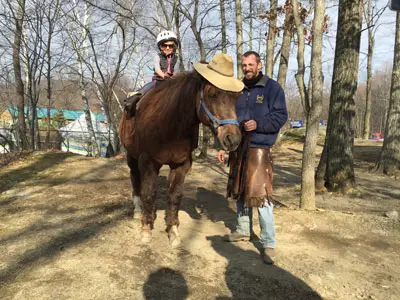 The minimum age to participate in the main trail rides is 7 years old, so we didn't experience any of these. Instead we opted for several 'pony rides' for the kids, which were actually done on large full-sized horses. These rides were led near the fun barn by patient staff who carefully suited up the kids in helmets and in the saddles.
We had actually already had a special encounter with the horses earlier that morning. Since she's such an early riser, we were walking the grounds at 7am when we spotted all 112 horses walking from their stables across the street to enter the riding stables in the resort area. We met the barn manager, TJ, and watched him greet each animal by name as it entered the barn. TJ took the time and introduced us to a couple of the beauties. In addition to horses, there is also a small wildlife area where you can see a zebra, camel, donkeys, and goats.
Summer Fun at Rocking Horse Ranch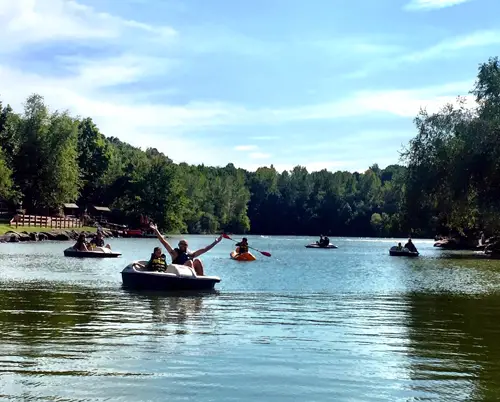 We returned to Rocking Horse Ranch during the summer, to see how the resort is different--or not--from our previous wintertime experience. The range of activities we tried during our second visit was wide and exciting. Here's what we did:
horse back riding
bungee trampolines
swam in both indoor and outdoor pools, both with a slide
rode a banana boat several times
enjoyed a chocolate fountain for dessert
rode inflatable tubes down a track at night
roasted marshmallows
went mining for gems
went fishing
played in a bouncy house
played in a ball pit climbing structure
climbed a rock wall
shot bb guns
tried archery
saw exotic animals, a zebra and camel
won prizes in the arcade

All of the activities were free with the exception of a nominal fee for the mining of gems and some of the arcade games.
Fall at Rocking Horse Ranch
This fall, the resort has a fun lineup of activities including Fall Fest, Ghost Town, and viewing the beautiful fall foliage of the Hudson Valley.
During Fall Fest, guests can partake of wine samplings and tastings from local farms, as well as apple-picking coupons for nearby orchards. They also have a shuttle that takes you to the Walkway over the Hudson, where you can take in fantastic views of the foliage. Ghost Town begins on Columbus Day weekend and offers a very scary experience for brave souls who choose to go through their live haunted house. Rocking Horse Ranch also offers trick-or-treating, costume contests, and pumpkin painting on weekends during October.
Tips on Visiting Rocking Horse Ranch
The food is good, with plenty of options, including vegetarian. If you have specific dietary needs, the kitchen is are very accommodating.
Easy access for strollers in common areas.
Pool towels are provided so no need to pack your own.
For summer visit bring sunscreen, bug spray and hats.
The activities are designed for kids ages 2 thru 14.
Everything on the resort is close by so you don't waste time shuttling all over the property--it's all within a short walking distance.

There are activities and entertainment for all ages, but mostly this resort caters to families with young children. Since this resort is all inclusive you never have to pull out your wallet, unless you're in the gift shop, the arcade, or ordering cocktails.