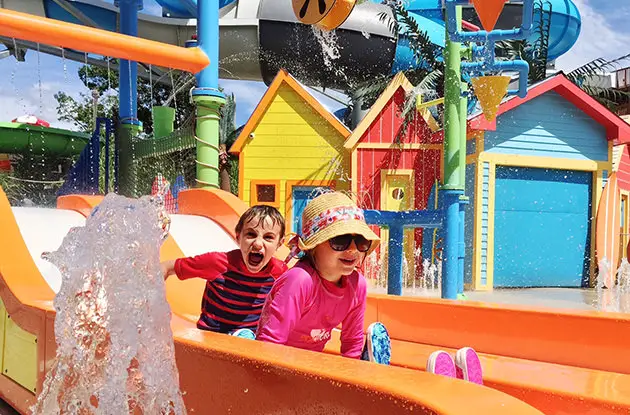 SplashDown Beach: My Favorite Outdoor Family Water Park
Get kid-friendly activities sent to you!
Get the Best Family Activities
Sent to You Weekly!
The scariest ride is the Humunga Half-Pipe. This bills itself as New York's only zero gravity half-pipe and it's quite a thrill. You can ride this solo or in a double tube. My four-year-old is so brave, I can't believe she rode this twice.
After the half-pipe, we did a lap in the Croc Creek Wavy Lazy River, which was nice for an adrenaline break, yet it still had some thrills with bucket dumps and geysers. We ended our day in a section with three slides: the Pirate's Plunge, Pirate's Revenge, and the Bullet Bowl. All three of these are tube rides and you can go solo or doubled up. Each one has tunnels, turns, drops, and twists, and all of them end in the same landing pool.
Our day at SplashDown Beach was great. With a 4- and 5-year-old, the kids were tall enough to do everything, yet young enough to still enjoy the little kid's sections. SplashDown Beach Water Park is owned and operated by the Turk Family, who also runs the Rocking Horse Ranch Resort.

Tips for Visiting SplashDown Beach with Your Family
Bring towels, sunscreen, sunglasses, and hats.
Coolers, food, and drinks are not allowed in, but bottled water is, so bring your own.
You can pack a cooler and leave it in the car for a picnic break or dine at one of the many options on site. The food was good, but a little pricey.
Best for ages 2-14.
Very stroller-friendly.
We made our visit on a Monday and the park was not crowed. I hear it gets packed, so if you're looking for a less crowded day, try a day early in the week.
Generally height requirements are between 36″-42″, check site for exact heights for each ride.
Free life jackets are provided.

RELATED:
How Lifeguards Keep Kids Safe at Water Parks
Find Weekend Activities in Your Area