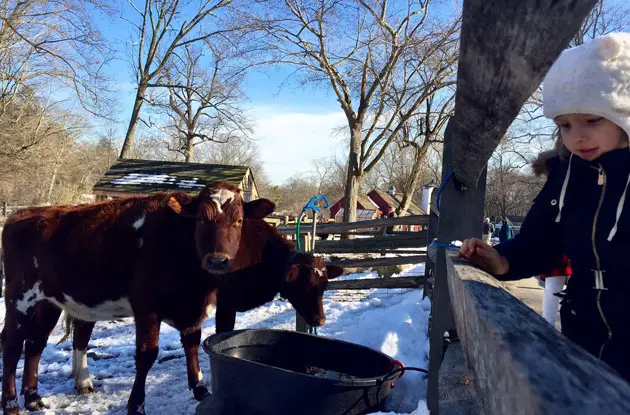 Stamford Museum & Nature Center: A Day of Fun, Indoors and Outdoors
Get kid-friendly activities sent to you!
Get the Best Family Activities
Sent to You Weekly!
At this charming New England–style farm, you can see gorgeous barns constructed in the 1700s and heritage-breed animals. During our visit we saw turkey, geese, ducks, horses, llamas, rabbits, cows, sheep, and rams. This picturesque property provides the perfect environment for admiring nature's beauty and studying the animals in a working farm setting.
Heckscher WILD!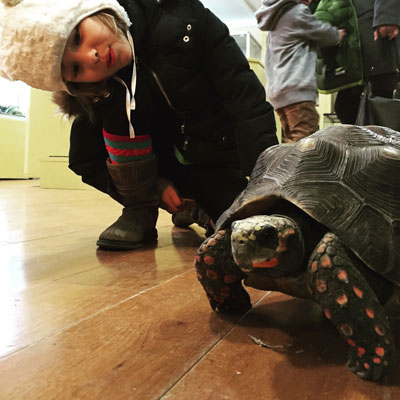 Also located on the farm is Heckscher WILD! This is a small indoor reptile house where you are able to get up close and even interact with wildlife. This was our kids' favorite part of the day. The employees taught us interesting facts about what we were seeing. They even had names for lots of the reptiles. Wallace the tortoise was a big hit and was out walking around in the space.
Observatory
Just off the farm path is an observatory. Throughout the year it hosts many evening events, offering visitors an opportunity to peer into a 22-inch research telescope to see the moon and the night sky.
It's easy to spend a whole afternoon exploring the grounds at Stamford Museum & Nature Center. Its unique events, including sheep shearing day and maple sugaring festival, sound particularly fun. With a farm, sculptures, observatory, pond, hiking trails, and a museum all in one location, it's rare to have so many different experiences in such a short visit.
Tips for Visiting
Everything is stroller and wheelchair accessible.
Bring a camera--this is a gorgeous and photogenic property.
You can easily spend 2+ hours here.
This isn't a children's petting zoo, it's a real working farm. You're not allowed to feed the animals.
This is a great place to bring a picnic lunch.
Check out the events page for information on upcoming events.
Price: $10; $5, children ages 4–17; free for children 3 and younger