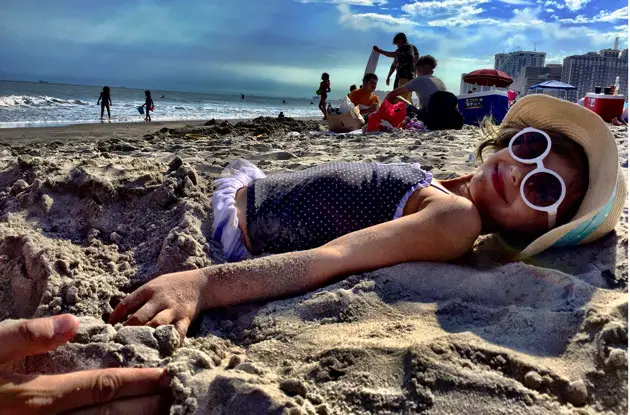 Atlantic City With Kids
Get kid-friendly activities sent to you!
Get the Best Family Activities
Sent to You Weekly!
After golfing we checked out of our room and put our luggage in our car. I headed across the street to Tanger's Outlets to do a spin of my own through the shops, while my boyfriend and daughter went back to the boardwalk to ride one of the famous Rolling Chairs pushed by a friendly man pointing out sights.
Atlantic City's boardwalk is famous for these Rolling Chairs. Back in the 1800s, they were the only mode of transportation on the boardwalk. While today you can bike, take a trolly, or walk it, you can still opt to be pushed in one of the buggies, each of which seats three adults comfortably. Since the boardwalk is so expansive, it's a fun way to get from one end to the other. It's also a nice break from the sun, since the Rolling Chairs all are canopied. Our daughter loved her short ride with her dad and learned a little history from their operator. They all charge the same rates, and it's based on the number of blocks you go.
Later that afternoon we met up at Ripley's Believe It Or Not on the boardwalk and toured the museum. Many parts were fascinating and my daughter loved these, but there were also many parts that were quite macabre and scared her. So parents beware!
As a finale to our trip, we went to the famous Steel Pier to eat hotdogs and cotton candy and enjoy the rides. Although the Ferris wheel was under construction, we found plenty of rides to enjoy. Our favorite was the swings, which sent us out soaring over the ocean and provided views of all of Atlantic City. This trip was planned last minute, but I'm already planning our return next Fourth of July!
Tips for a Family Trip to Atlantic City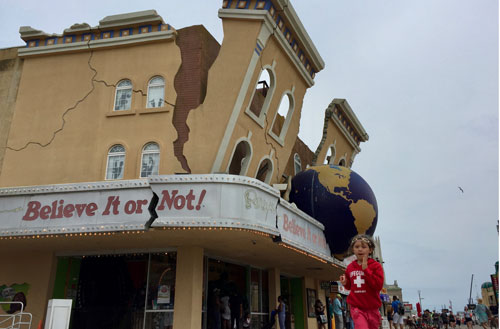 Check with your hotel to ensure pool(s) are kid friendly.
Bring your own towels, sunblock, etc., to the beach.
Bring a sweatshirt for the evening, as the ocean provides a cool breeze.
The Tropicana does firework displays throughout the summer.
Wear comfortable shoes—we did much more walking than anticipated.
Most everything is stroller friendly.
Many casinos offer great dinner promotions.
RELATED:
Download our guide to the best day trips in the NYC region.
Discover all the best kids' events near you with our weekly newsletter.
See more great vacation spots that are just a short drive away.