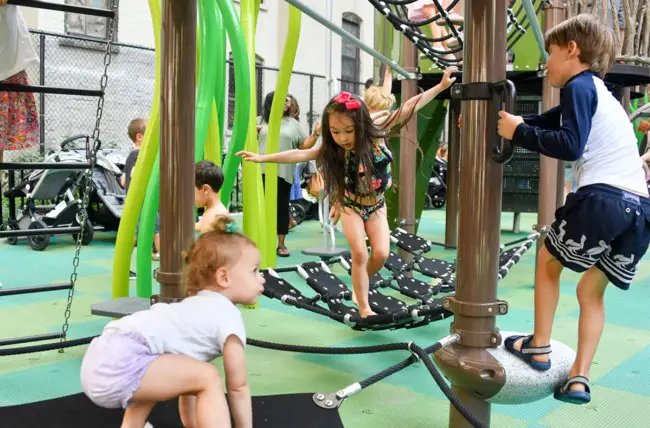 Chelsea Unveils a New Park For The First Time in 40 Years
Check out Chelsea Green before the summer ends.
Get kid-friendly activities sent to you!
Get the Best Family Activities
Sent to You Weekly!
Grab a towel and let your kids enjoy the park's spray features on a hot summer day. Parents can relax while watching their little ones from the park's shaded seating area.
"CB4 is thrilled by the opening of Chelsea Green," said Lowell Kern, First Vice Chair of Manhattan Community Board 4, and co-chair of its Waterfront, Parks & Environment Committee. "We are happy that we were able to help the community realize their vision for this site. CB4 recognizes the power of community organizing and celebrates the opening of a park that was the highest vote-getter in Speaker Corey Johnson's first edition of participatory budgeting."
Chelsea Green used to be the location for a former Department of Sanitation facility, which was demolished by the Department of Design and Construction for the project.
"We're thrilled to welcome Chelsea Green to our community and are forever grateful to the NYC Parks Department and our elected officials, especially Council Speaker Corey Johnson, whose leadership helped make this possible," said Matt Weiss & Sally Greenspan, on behalf of Friends of Chelsea Green. "We also want to acknowledge the thousands of downtown residents who have passionately supported this effort for nearly a decade. This park is a testament to the power of grassroots activism and a can-do New York spirit."
Main Image: Courtesy of David Avila/NYC Parks.