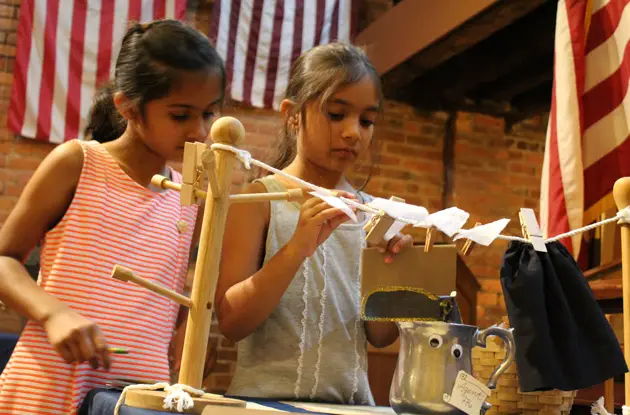 Learn About Revolutionary War Spies with Your Kids During Spy Week at Fraunces Tavern Museum
Spy Week honors the spies who played a part in NYC and U.S. history during the Revolution.
Get can't-miss family activities sent to you!
Get the Best Family Activities
Sent to You Weekly!
Spy Week culminates with Spy Week Family Day at Fraunces Tavern Museum on Saturday, Sept. 22. From 1-4pm, kids can write secret messages in invisible ink, use a clothesline to send a secret message, decode secret messages using a cipher wheel, and meet author Claudia Friddell, who will read from and sign copies of her children's book, George Washington's Spies.
Other special events during Spy Week include:
The walking tour Sympathetic Spies: George Washington's Eyes and Ears in Lower Manhattan on Sunday, Sept. 16. During this tour, attendees will retrace "the path of spies that actually worked out of Lower Manhattan," Kennard says. "And you see specific sights where they lived, where they worked, how they communicated with one another."
The special lecture, The Tragedy of Benedict Arnold: An American Life with author Joyce Lee Malcolm, on Wednesday, Sept. 19 examines the life of the infamous turncoat.
The Nathan Hale Day Commemoration on Friday, Sept. 21 hosted by the museum's parent organization, Sons of the Revolution in the State of New York, Inc., is a memorial for Hale, who infiltrated the British ranks to gather information for Washington. The commemoration is held in City Hall Park and features a wreath laying ceremony, color guard demonstration, and a speech.
Fraunces Tavern Museum is located at 54 Pearl St. in the Financial District. For more information, to purchase tickets, and see the full schedule, visit frauncestavernmuseum.org.

Main image: At Spy Week Family Day 2017, young visitors learned one of the many ways revolutionary spies sent messages to each other by writing their own coded messages using clothes on a clothesline.
Courtesy Fraunces Tavern Museum