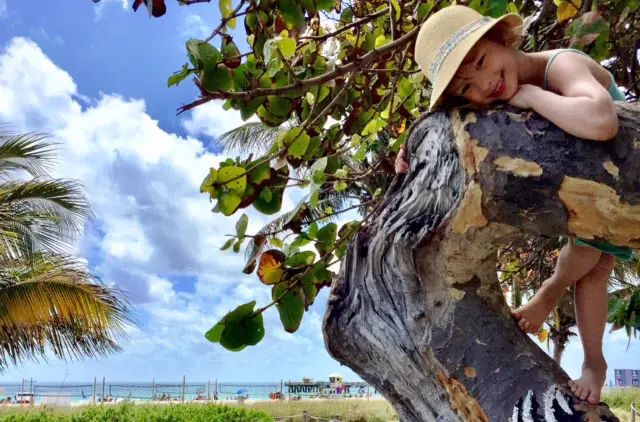 Fort Lauderdale for Families
Get kid-friendly activities sent to you!
Get the Best Kid-Friendly Activities
Sent to You Weekly!
There were lots of other activities on the boat, such as limbo and exploring the ship itself. Parents tended to sit in the back and kids toward the front as they immersed themselves in the fun, although parents can engage as much or as little as they want, especially if a child is shy. The only downside to this adventure is my daughter has now changed her name to Mermaid Crystal and seems to only respond when I call her by this newfound name.
Mai-Kai Restaurant and Polynesian Show
For dinner we went to the iconic Polynesian restaurant Mai-Kai. At this legendary restaurant you can dine on fine Polynesian cuisine while being entertained by a show. It is also rumored to have the best tropical drink menu anywhere in the world. Since I don't drink alcohol, my daughter and I tried some non-alcoholic mocktails, which were delicious. The rest of our party enjoyed the "real" drinks and agreed they may be the best tropical drinks they've ever tasted.
We sat in the bar area, even though this is not where the show is held. However, we walked through the show area and stood long enough to see some incredible hula dancing and a sword dancer swallowing fire. We made our way to the back of the restaurant where the doors open to incredible gardens. The gardens are free to walk through and filled with Tiki dolls, tropical plants, waterfalls, and lots of fun, kitschy charm. You can't help but have a good time here. The best part was we went on Wednesday, which happens to be when there is a half-price Happy Hour on all drinks from 5-7, free sushi and gyoza, and live music. Show up early, as it gets crowded quickly!

Day 3 in Fort Lauderdale

Everglades Tours Airboat Rides
Of course, while in Florida we had to experience the Everglades, and based on what locals recommended, we picked Everglades Tours. This is part of Sawgrass Recreational Park. One ticket offers airboat rides through the Everglades with up-close sightings of alligators as well as access to the park, which you can enjoy either before or after your boat tour. We explored the park after the boat and saw alligators, snakes, lizards, a Florida panther, black leopards, a bobcat, and about 15 other species of animals. We watched two shows, a large alligator feeding and a chance for my daughter to hold a baby alligator. You truly feel the excitement and learn some history of Florida's everglades while spending time here. I left with a deeper respect for these remarkable species and the endangered, fragile environment where they reside.

Day 4 in Fort Lauderdale

Pompano Beach
We spent our final day at Pompano Beach. Pompano Beach recently underwent a redevelopment process to revitalize its beachfront and historic downtown. The pristine white sand beaches now match the new pier and fun playgrounds line the beaches. There is a 1,000-foot-long municipal fishing pier, which is great to walk on and/or fish from, and we took advantage of the many beachside playgrounds. Another bonus about this beach is you can park right up along it, so there's no schlepping through long parking lots with all of your beach gear.
Wreck Bar Mermaids
That evening we went to B Ocean Hotel & Resort in downtown Fort Lauderdale to enjoy their free nightly mermaid show. Inside their lobby is Wreck Bar, which has underwater views of the outdoor swimming pool. The windows are located behind the bar, so patrons and tourists all gather around for the shows on Fridays and Saturdays at 6:30 & 9:30pm. The 6:30 show is child appropriate, while the 9:30 show is for adults only. My daughter was in complete awe when she saw the mermaids swimming around. Their costumes were exquisite and they definitely had talent as they kept their eyes open underwater and waved at the patrons.
We'll definitely be back to visit Fort Lauderdale. I suspect the Bluefoot Pirate Adventures and Wreck Bar Mermaids will be at the top of our list!
RELATED: Download our guide to the top kid-friendly day trips around the New York City metro region