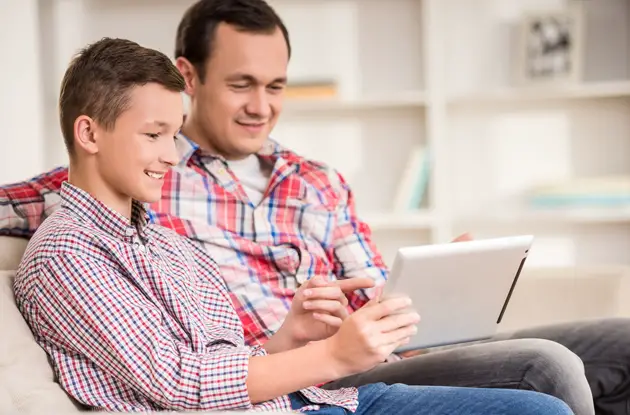 8 Tips For Getting Through Awkward Talks With Your Teen
As our kids get older, it's time to have conversations that make us uncomfortable, from 'the talk' to drinking and personal hygiene. Here's how to approach those topics—and get your teens to open up.
Get can't-miss family activities sent to you!
Get the Best Kid-Friendly Activities
Sent to You Weekly!
While this doesn't mean you should avoid consequences, Alamar suggests the conversation should be more about the experience than punishment. "Your goal is to help your child to understand the real dangers and your concerns," she says. "Listen to find out why your child chose to do this or is thinking about it. Ask questions like 'Why do you like it?' and help your child to find alternative behaviors and/or help him or her to feel comfortable coming to you."
'The Talk' Looks Different from When We Were Teens
When it comes to talking to your kids about sex, the easiest to-do tip is to use the environment around you for these conversations, like a poster you come across, a song you hear, a character from a film, etc., Pavkovic suggests. "Ask your teen very open-ended questions—imagine that you are their university professor and they are your grad student and you want their thoughts on a subject," she says. "The two most important things here are that one: they feel you are emotionally calm and stable while you speak to them, and two: they feel your respect for their subjective experience."
In other words, time your talk. "Don't start these conversations…right after coming back from work exhausted or right after finding inappropriate texts on your child's phone," she adds. "You need to be the stabilizing factor for them—remember there's a storm going on inside of them."
If You Don't Like Your Child's Friends, Be Supportive Anyway
Remember: The core struggle for teens is, again, their immeasurable need to belong to their peer group, Alamar says. "This means you should try to support friendships as best you can so your child can learn to have intimate relationships and build trust outside of just the immediate family," she says. "If you want to raise an independent adult who can sustain meaningful relationships, then you have to offer opportunities for your child to explore relationships—even ones you are suspect of."
If you judge your teen's friends, she may take personal offense so tread lightly. "If you're having trouble accepting your teen's friends, consider inviting them to your home or see if you can get to know their families," Alamar suggests. "In the end, your child is going to choose their friends, and the more you judge, the less likely they are to come to you with questions, concerns, or things to celebrate. They should have the opportunity to experience great friendships they've cultivated on their own and also experience disappointments and conflicts."
Remember: You Won't Have All the Answers
When you're parenting during this phase, give yourself permission to be vulnerable, Pavkovic says. "Be kind to yourself by going into this phase knowing that you don't know all the answers," she says. "The important thing is to get the conversation going and to be able to say, 'You know what, this is a tough one and I may not know what to tell you, but let's talk it out anyway.'"
It's also key to keep your child's strengths in mind. "This is your most powerful tool," she says. "As you try to help them with each challenge they face, if you know their strengths you can coach them through using these strengths to resolve these issues."
No pressure, but the steps you take now will forever make a difference in your teen's life. "What you are also doing then is not only helping your child make healthier decisions, but you are hitting the parental bingo by teaching them how to help themselves once they are living out there in the world without you," Pavkovic says.