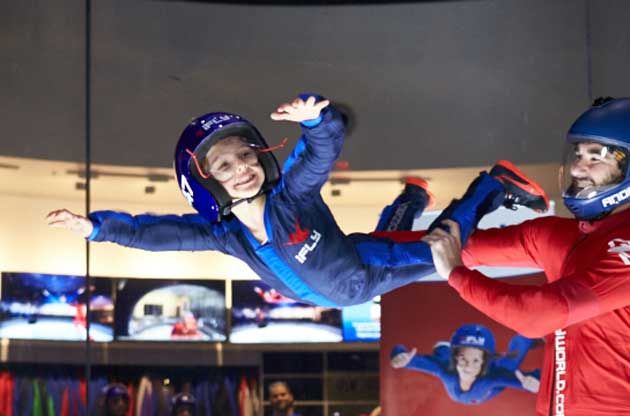 Indoor Skydiving Lets You Fly Like Superman
Get kid-friendly activities sent to you!
Get the Best Kid-Friendly Activities
Sent to You Weekly!
As I stepped out, I greeted my boyfriend with a huge smile then he took off. Monte is experienced at skydiving, so he confidently had control of his body and enjoyed soaring through the tunnel and experimenting a little. The instructor joined him throughout his flight but allowed him a little more freedom than Brooklyn or I had, since Monte is licensed.
After everyone had one turn, it was time for our high flights. This was amazing. My daughter and I each squealed in delight as we soared much higher than our first flights and whirled around, spinning up to the top of the tunnel and then back down. The whole time our arms were linked to our instructor. It was invigorating and fun. Afterwards we unsuited and took a look at the photos their crew took of each of us. We got the photo and video packages and talked about when we could go next.
My boyfriend Monte and I were both a little sore the next day, as if we had a good work out. Going into the experience, two 60-second flights didn't sound like enough. Now, looking back, I realize it is sufficient. I'd be much sorer if I spent more time in the wind tunnel. It's quite a work out. You use muscles not often utilized. When you go skydiving out of a plane, the real time to free fall is less than a minute, so by doing two flights we were actually doubling what we'd get if we did jump out of a plane--with way less anxiety.
Tips for Indoor Skydiving
You can do this as young as 3 and they've had someone as old as 103. Our 4-year-old loved it.
Wear shoes with laces. If you forget, the facility can provide to some people, as it did to two people in our group who didn't wear them.
Do not wear a collared shirt, as the collar will whip your neck.
If you have long hair, wear it in a ponytail, braid, or pinned back.
Stretch a little before you get in the tunnel, as it truly is an exercise.
Call and make a reservation; don't just show up and expect to fly. Monday to Thursday there is a lot of availability. Weekends are stacked.
Fill in the waivers online before going to save time.

iFly: Prices & Details
For those of you wondering if it's the same as skydiving--it's really a lot like it. It's different because you're not jumping out of a plane and there is no parachute, but the feeling of flight is very similar.
There are many different price plans. The popular ones are:
Spread your Wings for 2 package: $151.17, which is for 2 flyers. This includes two flights of one minute each for each flyer and two videos.
Family Flight package: $339.95, for 3-5 flyers, which includes 10 flights of one minute each and five videos.
If your package does not include any videos, they are $8.66 each and photos are $4.30 each, to be sent by email. Adding high flights are $9.95 per flyer. This is an optional choice to add on, which is usually offered upon making reservations by phone or at check-in.