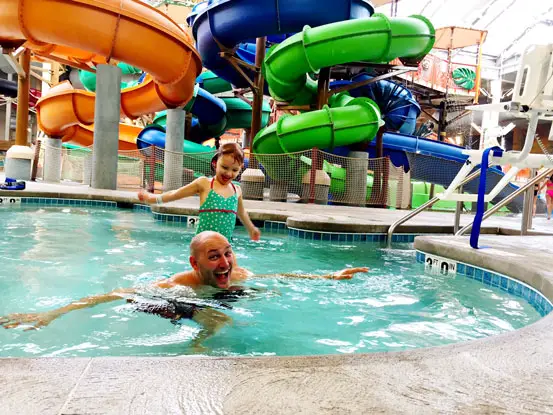 Kalahari Resorts in the Poconos: A Giant Water Park & Much More
Get kid-friendly activities sent to you!
Get the Best Kid-Friendly Activities
Sent to You Weekly!
Another feature I was particularly impressed by was the toddler area, Tiko's Watering Hole. This area is huge and offers so many different things for little ones, including a 1-foot-deep lazy river. The zero-entry pool, warm water, and wide range of activities offer a great way to introduce toddlers to water in a safe, comfortable way. They even had a water splash table, complete with seating for babies. I have visited a lot of water parks and never seen an area for little kids this nice or this big.
Kalahari's Adventure Kids Club
After splashing and sliding for a couple hours, we dried off and headed to the Adventure Kids Club, located just off the arcade/cafe. Here they offer family-friendly activities throughout the day, many of which are free. We participated in free cookie decorating and a scavenger hunt. We came in second place and received a $20 game card to use in the arcade. Every family who participated received a game card, though I don't know how much was on the others' cards. This may have been my favorite part of the trip. The scavenger hunt was so fun and silly--a lovely way to bond with my family.
The Arcade at Kalahari
The word arcade doesn't even begin to describe this area--it's more like a mega kids casino. It's filled with high-quality casino-like games geared toward kids. This 30,000-square-foot entertainment center also has mini bowling, glow-in-the-dark mini golf, and a 5-D Theater/Ride. You win tickets at the games, which can be cashed in for prizes in the prize gift shop.
Our visit to Kalahari was a pretty spectacular 24 hours. We checked in at 1:00 pm on a Monday and checked out around 1:00 pm the following day. My boyfriend and I both work from home and often multitask while playing with our daughter. On this trip we committed to paying complete attention to her and gave her the family time she deserves. We all left as winners after this spontaneous 24 hour vacation. We'll definitely be doing this again.
Tips for Visiting Kalahari Resorts:
Kalahari offers a lot of mid-week specials. The park likely feels very crowded on weekends, so I recommend trying to snag a mid-week getaway--or at least take the day off work and get a day pass. If you get a day pass, do so online before arriving, to ensure entry.
Some guests brought their own bathrobes to throw on after the water park. Consider bringing yours from home. At the very least, bring a zip-up hoodie.
Food and drinks were good and reasonably priced (at least from my NYC perspective).
The arcade was surprisingly fun, and we spent more money and time here than I expected. Consider this when making your plan and budget.
The walk to and from the water park is long, and the hotel is giant. Bring a stroller for any kids who might possibly need one. Plus, you can keep your belongings in it while you play in the water.
The water is heavily chlorinated, so much so that when we visited the water park early Tuesday morning my eyes were burning a bit just walking around. Keep this in mind for the little ones, and be sure your kids understand not to drink the water.