Rye Playland: A Westchester Family Amusement Park Since the Early 1900s
Get kid-friendly activities sent to you!
Get the Best Kid-Friendly Activities
Sent to You Weekly!
Another favorite was the swings. We rode these several times, which gave us a chance to dry off as well as provided views of the entire park, including the beach. My personal favorite was probably the go-karts. The height requirement is lower than many other places (36" with an adult), so our kids were able to ride with us. We enjoyed being silly moms racing each other, and our kids were our biggest cheerleaders while riding next to us. Since there were no lines we rode these several times.
Historic Playland
Playland was declared a National Historic Landmark in 1987. It is rich in culture and history. The rides may not be as shiny and new as other theme parks, but it isn't trying to compete with the more commercial and chain-owned amusement parks. The park's authenticity stands on its own. The balance of a few newer, modern rides combined with the restoration of some of the classics still keeps it relevant as a choice for a fun family destination.
Playland proudly billed itself as "America's Premier Playground" in the 1930s. While that title may not hold true today, the park's history certainly has a place in our culture—and it remains great fun for adults and kids alike.
Tips for Visiting Rye Playland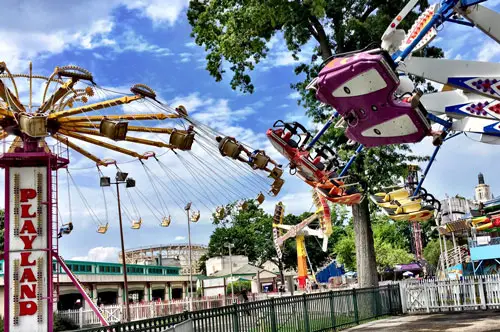 There are several dark rides not necessarily appropriate for young children: Flying Witch, Starship 2000, Ye Old Mill, and Zombie Castle.
The park is very stroller friendly.
There are many food options, for meals and snacks.
There are many accessible bathrooms.
There are classis carnival games available, but we also noticed several closed stalls.
We brought in snacks and water, but coolers are not allowed.
Parking is $10.
There is a $5 admission discount for Westchester residents.
There are many promotions, so check their site for their best deals.
Every Friday from July 1 to Sept 2, spectacular fireworks displays are choreographed to music at 9:15 p.m.
Beyond the amusement park and for additional admission, there is a swimming area that which consists of a crescent-shaped beach along the Long Island Sound, swimming pool, and boardwalk. The new Westchester Children's Museum is housed in a building on the boardwalk as well. We didn't visit these areas, but it looked busy and like a nice place to cool off.
Fun Fact: Did you know that Rye Playland was the amusement park featured in the movie Big ,starring Tom Hanks? The scene in which the "Zoltar the Magnificent" fortune-telling machine returns Hanks' character to an adult was filmed on Playland's boardwalk.
RELATED: Find the best things to do with kids in Westchester and NYC.