7 of The Best Sensory Toys for Kids' Play Time
Toys weren't just made to clutter your home. Sensory toys instill children with loads of valuable skills.
Get kid-friendly activities sent to you!
Get the Best Family Activities
Sent to You Weekly!
Kinetic Sand Beach Sand Playset
You don't have to be at the beach to build sandcastles. Construct them anywhere with this kinetic beach sand. Unlike classic kinetic sand, kinetic beach sand is made with larger grains of natural sand, so it feels just like wet beach sand and flows through hands without sticking. Plus, it easily molds and won't dry out. Kids can build sandcastles, towers, walls, bridges, and more. The sand tools build fine motor skills as kids cut, dig, rake, and shovel.
Designed for kids by parents, this sensory board features ties, buckles, and buttons. The buckles and buttons have varying difficulty levels, making them suitable for various developmental levels. Plus, the soft felt-covered wood board is small and light enough for travel in a car or airplane.
Baby will go gaga for this rattle that delights all her senses. The jellyfish responds to baby's movements and puts on a color-changing light show. Introduce your little one to reimagined classical melodies. Textured rope "tentacles" promote baby's tactile development. Plus, its light weight and small size make it ideal for on-the-go fun.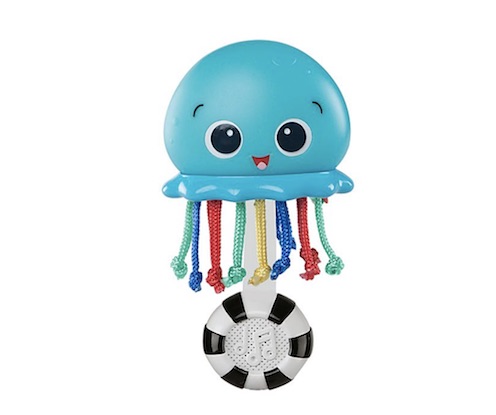 Introduce kids to new textures, sights, temperatures, and sounds with this sand and water play toy. Splashing, for example, gets kids using their senses as they explore. They can see, hear, and feel something new with every movement. Here, one side of the table holds sand for digging, molding, and playing. The other side of the table is for water where kids can soak, squeeze, or float their toys.
Images courtesy Amazon and buybuyBABY