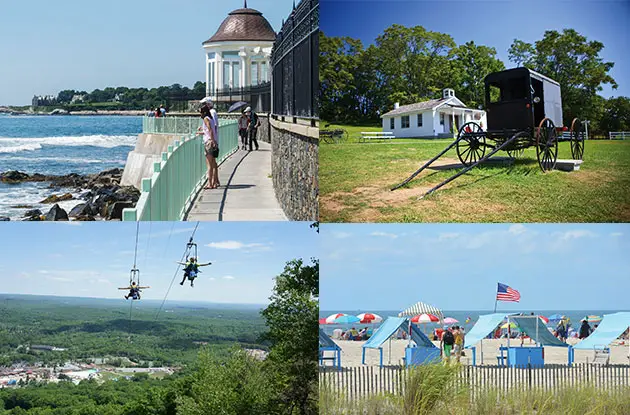 Top Nearby Family Vacation Spots
Get can't-miss family activities sent to you!
Get the Best Family Activities
Sent to You Weekly!
For more information, visit atlanticcitynj.com. Photo: The Rolling Chairs on the boardwalk in Atlantic City, NJ, courtesy atlanticcitynj.com
Pennsylvania Dutch Country, Lancaster, PA
Old-fashioned windmills, horse-drawn buggies, rolling farmlands, and life without cellphones still exist--and you can find them relatively nearby. The Lancaster area feels like an escape from everyday life for most families. Also called Amish Country because of its large population of Amish people who eschew modern technology, it's a unique place to visit with kids, where they can learn about a simpler way of living. Lancaster County is filled with hotels and B&Bs, including the Red Caboose Motel & Restaurant, where you sleep in an actual train car.
One of the best ways to check out Pennsylvania Dutch Country is on a bus tour. Many tours stop at craft shops, bakeries, and farms. You can also take a ride on Strasburg Rail Road, America's oldest short-line railroad, an authentic steam train that drives through Amish Country. Be sure to sample some Pennsylvania Dutch home cooking—known for its unusual-sounding names derived from German background—while you're there. Kids will also enjoy visiting an Amish school and taking a buggy ride through town. If you're looking for a particularly unique experience, take a hot air balloon ride and see the rolling farmland from the sky.
For more excitement (this time of the modern-world variety), Hershey, The Sweetest Place on Earth, is nearby. Kids can seek thrills on Hersheypark's speeding rollercoasters or take a tour of Hershey's Chocolate World. You can even make your own candy bar, something no kid will forget anytime soon.
For more information, visit discoverlancaster.com. Photo: The grounds of the Amish Village in Lancaster, courtesy lancasterpa.com
Cape May, NJ
Cape May, located in New Jersey's southernmost county, is a charming Victorian seaside destination with some of the country's best beaches. Families love coming here year after year to enjoy its exceptional vineyards, pristine beaches, and enough family entertainment to last the whole summer. With more than 500 preserved Victorian buildings, the entire city of Cape May is a National Historic District. Depending on your preferences you can stay in a Victorian inn or a large hotel, and most accommodations are within walking distance to the beach.
Adventurous families can try exploring the coastal wetlands aboard a 40-foot-long skimmer with the Salt Marsh Safari's wildlife boat tour. Other favorites are the beachfront amusement parks (Morey's Piers and Wildwoods Boardwalk), bicycle rides, and trolley or horse-drawn carriage rides. You can also climb to the top of two different lighthouses—World War II Lookout Tower and Cape May Lighthouse—or relax at one of five main beaches, including The Cove and Sunset Beach, which more than earns its name on clear nights. Cape May is also known for an unusual stone that washes up on its shores called Cape May's diamonds—smooth quartz treasures that kids love to find and collect. Sunset Beach is known for having the most of these stones.
For more information, visit capemay.com. Photo: One of Cape May's many beaches, courtesy capemay.com
Newport, RI
Known as The City by the Sea, Newport is one of the most desirable vacation destinations in the Northeast. Landmark mansions dot the area overlooking the sea, while cobblestone streets, shops, waterfront restaurants, and festivals fill the town. Newport may be located in America's smallest state, but it offers a large variety of entertainment and accommodation options. Families have a choice to stay in big hotels with pools or charming inns downtown.
Children love the Ice Cream Train, a moving ice cream parlor that combines two favorite kids' activities: building your own sundae while riding a train. For the active family, Newport offers windsurfing, boating, parasailing, and Cliff Walk, a 3.5-mile path that combines the beauty of the coastline with the mansions of the Gilded Age. Other popular attractions include the Exploration Center & Aquarium, whale and dolphin watching cruises, Fort Adams, and the Newport Jazz Festival. Newport knows how to entertain, and along with that comes good cuisine: This area is famous for its delicious seafood—especially lobster.
For more information, visit discovernewport.org. Photo: Newport's Cliff Walk, courtesy discovernewport.org
RELATED: 7 Vacations for Families with Children with Special Needs

Vacation Spots a Bit Further Away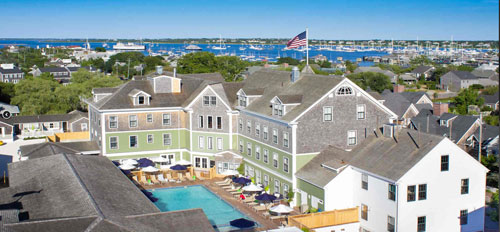 For families able to handle a longer drive, the possibilities for awesome getaways are endless, but here are some of our favorite spots no more than 7 hours away.
• Boston, MA: Experience Revolutionary War history up close, visit the renowned Museum of Science, choose from an array of cultural institutions and museums, and take in a baseball game at historic (and for Yankees fans, hated) Fenway Park.
• Cape Cod and Nantucket, MA: If you're looking for natural beauty—and maybe a whale-sighting tour—head to Massachusetts for the beaches, biking, and other activities the island of Nantucket and the broader Cape Cod region have to offer. (Image above: a view of Nantucket with the Nantucket Hotel in the foreground. Credit: George Riethof Photography)
• Washington, D.C.: Whether politics, history, or the arts are your family's passions, the nation's capital can keep you busy for days, between the monuments, government buildings, museums, and more.
• White Mountains, NH: For a change of pace, consider the placid White Mountains region for outdoor summer or spring adventures, foliage tours in the fall, or skiing in the winter. Year-round, enjoy the scenic tours, unique covered bridges, and the wonders of nature.
• Freeport, ME: A visit to this historic village offers something for everyone, including four main L.L. Bean stores that never close, plus its Outdoor Discovery School that offers affordable adventures including kayaking and cross-country skiing; outlet shopping; the Desert of Maine (yes, desert!); nearby hiking trails; and some of the best lobster in the country.
• Niagara Falls: The famed waterfalls are indescribably breathtaking up close—awe-inspiring for the whole family.
Any one of these experiences is sure to have you planning a return trip next year.
RELATED: Get the best local kids' activities sent to your in-box weekly!