Magic Day Camp
216-15 Peck Ave.
Bayside, Queens, NY
718-634-8109
Magic Day Camp was one of the only camps in Queens to operate for the entire summer during the COVID pandemic and was featured on PIX11 News!
Magic Day Camp
THANK YOU for considering Magic Day Camp for the most important person in your life-YOUR CHILD!  We hope that after you have read this brief description you will feel incredibly confident knowing that you have found the perfect summer day camp for both you and your child. *Magic Day Camp is a privately owned summer day camp spectacular that has successfully operated for more than 30 years. Magic Day Camp is conveniently located in Bayside, Queens and we are tremendously proud to be part of Queens County and all that it has to offer a child with an ambitious mind. While our home base is in Queens and we provide door to door transportation to families EVERYWHERE in Queens at no additional cost, we also offer camping options for children residing in New Hyde Park, Elmont, Valley Stream, Floral Park, and Garden City.  Our location is in one of the most beautiful sections of Queens with Alley Pond Park, and Flushing Meadow Corona Park all within minutes of us. These great oases of playgrounds are options for our campers and sometimes their families too, with endless sporting events and lazy summer day picnics.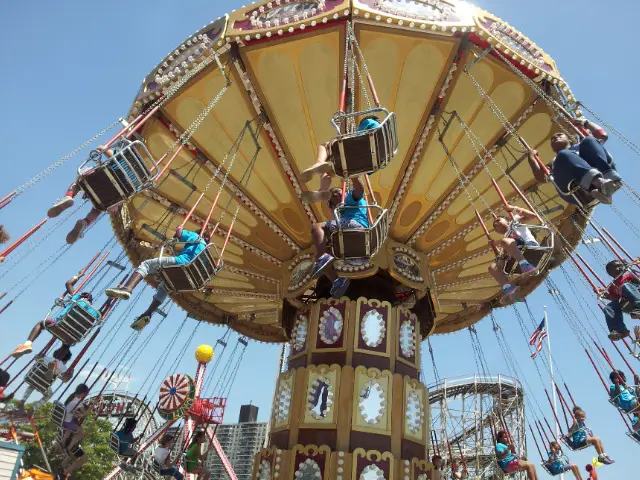 Mission
We know that each child possesses his or her own unique and intriguing way of learning & developing both socially and physically. Our mission is to reinforce the valuable fundamentals of life that are taught at Magic Day camp in a diverse, healthy, nurturing, safe, and memorable environment. We pride ourselves on knowing that we have made a difference in the life of every child that will one day go out into this big world. We believe that summer day camp should be a fun, significant experience and at the same time, we strongly believe the skills and lessons we are teaching will make a huge difference throughout their personal lives. Our campers are challenged to be the very best they can be. We add magic by encouraging each camper to engage with their peers to grow through socialization as well.
Location
We are delighted to occupy the facility in which we call home base each summer. Our home base is located at 75-25 Bell Boulevard which affords us the opportunity to meet the entertainment needs of our campers which is coordinated by our team of directors in an effort to meet each family's expectations beyond comparison. Immaculately clean and safe indoor and outdoor facilities enables all of our activities to take place when we are not on trips. The facility hosts a full auditorium for all of our theatre and showcase needs, as well as some of our open houses, and an official well lit indoor gym and outdoor playground. They are fully equipped with inspected sprinklers, jungle gyms, tennis courts, basketball courts, softball courts, and a picnic area for our outdoor lunches that the children look forward to and so do we. All of these areas are supervised by trained adult counselors. 
Directors
We have two on site Directors and we have several Assistant Directors. While our Directors oversee the entire camp operation, our Assistant Directors are tasked with the various activities that take place. Our staff includes an Aquatics Director, Dance & Martial Arts Demonstration Director, Athletics Director, Food Safety Specialist. We find this division of responsibility to be an advantageous to the enormous amount of entertaining and activities that take place each day. This also ensures that we can offer the individualized attention and quality that our Magic families have grown to expect. We staff an experienced Transportation Director to ensure the safety and reliability of all our transportation from pick up to drop off as well as the coordination of transport throughout the day when we go on trips. *Magic Day Camp Directors, Assistant Directors and Head Counselors are experienced and/or, New York State Certified teachers that are trained in Cardiac Pulmonary Resuscitation (CPR), First Aid, and Responding to Emergency (RTE) methods.
Transportation
We believe our busing service is one of the most important components of your child's camping experience. Our bus company is a direct reflection of Magic Day Camp and we feel it deserves the utmost attention. Our bus drivers are the first people you and your child will see each morning. Our drivers are known for their friendly and appropriate manner, relentless safety measures, and respectful appearance while providing courteous and established pickups and drop offs times for your child.  Our bus drivers will never ever leave a child unattended at any time. We are grateful to have them work with us and provide us with their conscientious work ethic. All of our bus drivers have children of their own and understand the important role they play in this part of a child's day. They often play the latest pop tunes for the children to sing along while riding to our first stop which is the pool.

Swimming
Some parents as well as children are frightened by aquatics and we do our best to address and gradually ease these fears through encouragement and constant supervision. The swimming portion of our program is the first thing we do each day. We have found that the anticipation and concentration of a child in terms of swimming is much sharper in the morning than in the afternoon. Every child, regardless of swimming capability, is tested by a qualified and experienced Aquatic Director who is certified in CPR as well as Lifeguard Supervision and Management before he or she enters the water. In addition to our Aquatic Director, several lifeguards ensure the safety of pool activities in and around the pool and every counselor is on duty, in the pool, and throughout the facility with the children. Once your child has passed the swim test we intently follow "the buddy system" which means that each child is assigned a "buddy" that will be in the water and pool area with them at all times. No one is permitted in the water without their buddy. In addition to the lifeguards and trained aquatics staff, counselors and Head Counselors are in the water as well. Our instructors and staff are delicate in their approach with uneasy swimmers and conscientious while guiding advanced swimmers. Swimming skills are enhanced with practice and children develop their skills at different levels. While we cannot guarantee that all children will be professional swimmers by the end of their summer camp stay, we definitely can ensure that we will do everything we can to get closer to this enormous and exciting goal.   
Activities
Our activities are endless and continue to grow each year. Magic Day Camp and its staff are trained to make sure that each child is engaged in something they love to do. Our activities are intended to stimulate your child's imagination, creativity, and physical ability while having fun with children their age. We strive for your child to make new friends while enjoying the ones they already have. We encourage children to explore new things that were once perhaps a fear, and enjoy the confidence that is attained as they grow and learn here at Magic Day Camp.
Trips
We are the only summer day camp that truly offers 3 very exciting trips each week in addition to the countless activities that we provide while at our home base. Our trips include Adventureland, live theatre, laser tag, New York Hall of Science, museums, movies, bowling, skating, and mini-golf, and so much more all included in our price!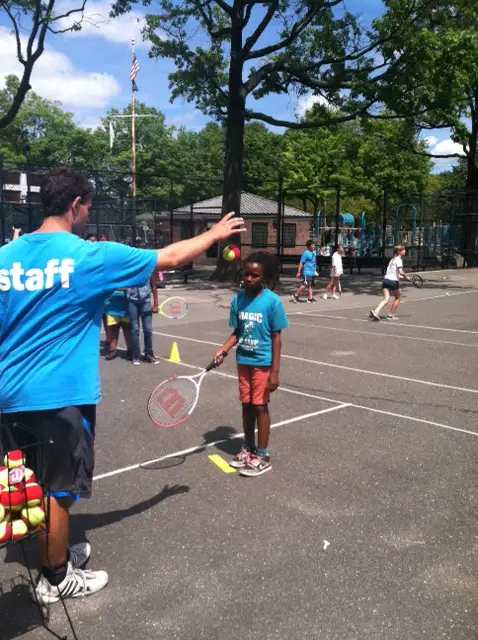 Rain or Shine
Rainy weather is sunshine turned outside IN for us! It's Magic!  Because we have access to our amazing indoor facility every day, rainy weather is never a threat or a problem for Magic Day Camp. We simply enjoy the indoor cafeteria, gymnasium, & auditorium that we often can't get the children to leave due to the fun they have. Entertainment is always on hand for us to start a party at any time as we dance the rain away. Our calendar includes an indoor plan should the weather interfere with our outdoor plans. Rainy days are also a perfect day for our campers to settle in and watch a suitable movie or engage in one of our countless games, contests, arts & crafts, and science projects that are often used in school in September. It is also mandatory for all our campers to carry a book with them at all times to reinforce the reading packet that most schools have children complete over the summer.
Lunch
Lunch is included in the price you pay, and you can be assured that we are never short on food and offer both hot and cold nutritious meals with no limit.   
Supervision
We maintain a staff that compares to none. Many of our Directors and counselors have worked with our campers for years and we consider ourselves a camping family. We are very selective when determining the perfect fit for our camp family.  Our carefully trained staff is hand selected and must be as excited for camp to begin as the children are. We hire people who are balanced, screened, and who demonstrate an understanding, enthusiasm, and love for working with children.  Our ratio of counselors to campers often exceeds the state requirements and we are often over staffed in an effort to provide fun environment in the confines of a safe environment.
On Site Medical Care
We travel every day with one to two certified and qualified medical professionals for any basic medical needs a child may need while under our supervision. Our Health Director examines every camper's medical record we collect from you and your child's physician to make sure that we accommodate all of you child's need while in our care.   
Summer Camp Rates Includes:
Door to Door Transportation
Hot & Cold Daily Lunches
3 trips each week and other excursions
Recreational & Instructional
Swimming
1 Camper T-shirt
1 Tote Bag
Please send me information about Magic Day Camp
Find More
CAMPS - DIGITAL GUIDE - PRINT GUIDE

Magic Day Camp, "Where Every Day Is Magical," offers children ages 4-15 adventures and activities that stimulate and motivate minds and physical ability. We swim every day in an Olympic country club pool. With exciting weekly trips, our rates include door-to-door transportation, healthy lunches, professional tennis, dance, and instructional sports programs.
Get the Best Kid-Friendly Activities
Sent to You Weekly!