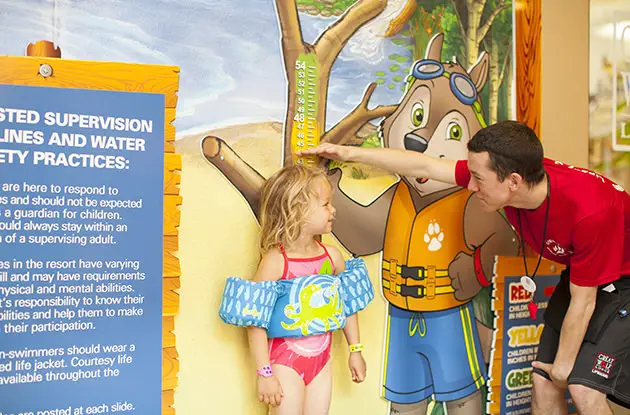 Behind the Thrills: How Lifeguards Keep Kids Safe at Water Parks
Get kid-friendly activities sent to you!
Get the Best Kid-Friendly Activities
Sent to You Weekly!
Whether stationed at the shallow kiddie pool or wave pool, all lifeguards have the same certifications and training. Lifeguards are required to participate in in-service training on a weekly basis to reinforce their swimming skills, and sit in pre-shift meetings to go over anything that needs to be discussed, mainly pertinent to water safety.
"That's what really keeps lifeguards sharp," says Wayne Franks, director of water park operations at Camelback Resort. "Knowing that they have [the] responsibility of not only the guests that are in the park [and] are swimming in the pools…there's that opportunity that it could be catastrophic, [and] that trains for that awareness."
Most water parks have between 100-200 certified lifeguards on staff, but the number who are on duty at any one time varies, depending on the size of the park. Though there can be a lot of lifeguards working at once, the most important factor is that they do not take their eyes off of the water. At Great Wolf Lodge, the director of aquatics sometimes sets down a glass of water during the interview process and asks the candidate to stare at it for five minutes straight.
"Sometimes it just gives people the perspective of how important it is no matter what," Colavito says. "Even if there isn't anybody in the water, you're still watching water, and that's how important the job is."

Shared Responsibilities
When taking children to water parks, safety is not just the lifeguards' responsibility—it, of course, starts with parents. The number-one tip that experts emphasized is to provide constant supervision to your children.
Franks advises parents to enroll children in swimming lessons to make sure they can keep themselves afloat while in the water. Franks and Robertson both suggested that kids should wear life jackets even if they are strong swimmers. Robertson also stresses that parents should not allow their children to go down waterslides if they do not meet the height requirements, no matter how tempting it may be to give in to kids' entreaties to allow them to skirt the rules.
"Their kids may not be tall enough to ride that ride now, but they will be," Robertson says. "There are reasons for the rules that are there."


Main image: A lifeguard at Great Wolf Lodge measures a child to see which attractions would be safe for her at the water park.
Courtesy of Great Wolf Lodge

RELATED:
Find Swimming Classes Near You
Safety and First-Aid Resources